Nominations for New Zealand Youth Awards 2017 now open
Please take the time to consider nominating those outstanding young people in your community. There are a wide range of opportunities to acknowledge and recognise the awesome contributions and differences individuals and groups of youth make every day.
To find out more on the Awards and how to nominate an inspirational young New Zealander go to: https://nzyouthawards.org.nz/
Do it today, don't wait, if a young person/s name popped into your head as you read this then nominate them now, it could make all the difference to them being invited to receive a New Zealand Youth Award at Parliament.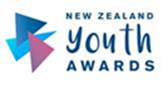 << Back