Foundational Mentoring Skills programme (MentorPlus)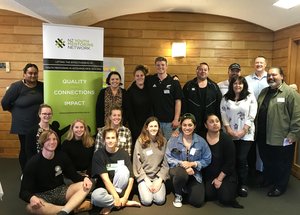 This two day workshop delves into the foundational skills required for effective youth mentoring. You'll gain insights into the art of mentoring; guiding young people in exploring their identity and culture; handling risks and behaviour when engaging with them; fostering effective communication; and aiding in their personal development. Whether you're new to mentoring or looking to refine your skllls, this workshop promises valuable takeaways.
Feedback from previous attendees:
"The workshop is really practical. It taught me how to talk with our mentees more effectively and ask the right questions."
"It gave me really useful activities that we can use with our mentees."
"I really enjoyed sharing korero with workmates and looking at the theory behind how we work with young people."
Our small group training workshops bring together youth workers, teachers, social workers, and community-based mentors working with young people. This diversity of participants supports opportunities to learn about different cultures, values and perspectives, and effective skills for working with New Zealand's diverse young people.
The workshop covers five core modules:
Mentoring foundations
Helping young people explore their identity and culture
Managing risk & behaviour when working with a young person
Communicating effectively with a young person, and
Assisting personal development.
During the Communication module we will particularly focus on developing skills in reflective listening as well as motivation and disclosure. In Risk and Behaviour Management we will be looking at challenging and changing behaviour, together with underpinning influences, boundaries and policies. During the Personal Development module we will focus on developing resiliency in a young person and exploring self-efficacy. And in the final module, we will explore how environments, diversity, gender and culture can contribute to the journey of exploring Identity and Culture for a young person. Attendees will be invited to explore their own whakapapa in order to build effective relationships with young people - an essential foundation for this leadership role.
At the conclusion of the two days, attendees will receive the Foundation Certificate in Youth Mentoring in New Zealand.
Who should attend:
Mentor coordinators, youth workers, teachers, social workers, volunteer mentor, sports coaches, and anyone working with young people in New Zealand.
Workshop fee:
$380.00 + GST (the fee covers: all course materials and catering. It does not include any accommodation if you are traveling from out of town to attend the workshop)
Discounts on course fees are offered to organisations that register more than one person to attend the same training workshop:
10% discount for second person

15% discount for third person

20% discount for four or more people