SHARING THE KAUPAPA 3 Whai Wāhitanga: Active Youth Participation in Mentoring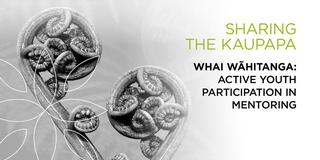 Following two successful series of Sharing the Kaupapa workshops, we're desiging a brand new workshop about Whai Wāhitanga: Active Youth Participation in Mentoring.
SERIES 1: provided an Introduction to the Guide to Effective and Safe Practices in Youth Mentoring in Aotearoa
SERIES 2: focused on Quality Relationships in Youth Mentoring
We visited 18 regional centres from Kaitaia to Invercargill for both series, and the feedback was extremely positive. You asked for more and you asked us to return to your regions. So now we're designing a brand new workshop based on your desire to learn more about mentoring.
SERIES 3: Workshop Objectives
Learn more about effective mentoring, with a particular focus on the unique perspective of young people.
Practise what we preach and involve young people in training others about youth mentoring.
Support young people to share their experiences in mentoring.
Consider what helps and hinders young people engaging in mentoring.
Understand and enable the conditions of real youth participation (what needs to be in place).
Become familiar with relevant models and frameworks, starting with mātauranga Māori and locating ourselves in a global context.
Reflect on your own, and your organisation's capacity to involve young people in decisions that affect them.
Develop specialised skills, in mentors and mentoring organisations, that encourage and support youth participation in decision making.
Strengthen regional and national networks in the well-established youth mentoring community.
SERIES 3: Workshop content and structure
Understanding Whai Wāhitanga in mentoring.
Thinking through models of participation including indigenous approaches and Wierenga's Star.
Hearing the voice of young people in mentoring.
Exploring 7 pointers for practice: a process for supporting participation.
Using a new reflective tool.
---