Quality Relationships in Youth Mentoring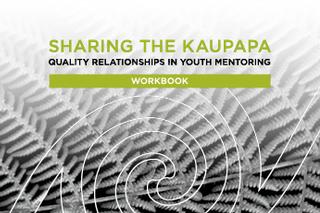 Due to many requests from across the youth mentoring network we are renewing our very popular one-day Quality Relationships in Youth Mentoring programme. This was the second workshop in our Sharing the Kaupapa series. It is focused on the art of forming and maintaining relationships with young people in mentoring.
This workshop was developed collaboratively and through relationships. We have acknowledged diverse perspectives and a range of experiences in youth mentoring. The workshop and accompanying workbook were written by Rod Baxter, with active support from the NZYMN Trustees, Ross McCook and specialist advice from Yvonna Ualesi, Grendon Boynton and 20 other advisors from across the motu.
Workshop objectives
To learn more about effective mentoring
To develop specialised skills to build relationships with young people
To reintroduce and remind practitioners about the Guide to Effective and Safe Practice in Youth Mentoring (2nd edition)
To expand upon Section 3 of the Guide: The Mentoring Relationship
To provide new frameworks, research and skills to strengthen quality mentoring relationships, available for all levels of mentoring programme delivery, including coordinators, teachers, mentors, youth workers and volunteers.
To strengthen regional and national networks in the well-established youth mentoring community
To have fun!
Who should attend?
This workshop is for people who work with young people, including: mentors, mentor programme providers, youth workers, educators, school counsellors, pastors, central and local government agency staff and community workers.
Registration fee
There is a registration fee of $50 inclusive GST and booking fee. You will receive a comprehensive workbook to take back to work with you.
Workshop content and structure
The workshop is structured to mirror the typical mentoring relationship journey.
Youth mentoring recognises culture.
What are the unique indigenous approaches to mentoring in Aotearoa?
What are our cross-cultural competencies?
How do our cultures weave throughout everything we explore?
Youth mentoring requires contemplation
How do we reflect on our motivations to mentor?
How do we consider what young people are looking for and need?
Can we name programme aims, goals and expectations?
Youth mentoring prioritises connections
How to connect with young people? What works?
How are mentoring relationships formed?
Can we reflect on mentors in our own lives, and their impact on us now?
Youth mentoring creates covenants
How can we co-create with young people a shared purpose and goals?
How do we set boundaries and expectations?
Who needs to be involved in the relational agreement or 'covenant'?
Youth mentoring includes challenges
How can we respond to defiant and challenging behaviour?
How do we avoid power struggles and conflict?
How can we refocus, repair and get relationships back on track?
Youth mentoring needs continuity
What skills and qualities can we apply as relationships mature?
How do mentoring relationships develop long term?
What kinds of ritual and rhythms can we create?
Youth mentoring enables change
What impact are our relationships actually having?
How can we evaluate progress and the covenant?
How do we know we've made a difference?
2023 workshop schedule
At this stage we are planning seven workshops - four in person and three online. Registrations a now open for the first of our online workshops being held on Monday 3 April. The dates for the seven workshops are listed here. We will let you know when registrations open for the others.
Online: Mon 3 April 2023
Waikato region: Thurs 15 June 2023
Hawke Bay region: Thurs 20 July 2023
Online: Wed 30 August 2023
Manawatu region: Thurs 12 October 2023
Online: Wed 25 October 2023
South Island location (tbc): Thurs 30 November 202
Click on the link to download workshop details NZYMN Workshop A4 flyer_2023