Wishing you a safe and happy festive season
On behalf of the NZ Youth Mentoring Network, I would like to wish you all a very safe and happy festive season and a prosperous New Year.
It has been a pleasure and a privilege to work with you and your organisations this year. The Network's aim is to support you in the tremendous work you do with young people in your community. Congratulations on the many achievements you have made this year and thank you for sharing your knowledge and experience to advance the growth and development of effective youth mentoring practice in NZ.
It's been a busy and productive year for the Network. We were delighted that Sir Anand and Lady Susan Satyanand accepted our invitation to be our joint patrons, with Sir Anand joining us for our National Conference in September. We welcomed the opportunity to provide input to the Government's Children's Action Plan Mentoring Initiative, particularly in respect to the Safe Practice Guidelines. And to end the year it's been particularly satisfying to deliver Mentoring Training to two organisations in the Far North who are currently implementing programmes to support their young people.
We look forward to continuing to work with you and your organisations in the coming year. Our 2014 public training schedule is now published with courses being offered in Christchurch, Wellington and Auckland. We are also developing a seminar series that will be offered in the main centres later in the year. And a key priority for 2014 will be to work with Vodafone research fellow Pat Bullen to complete an audit of the sector to establish a more comprehensive database of organisations offering mentoring services.
Meri kirihimete nga mihi o te tau hou ki to whanau
Merry Christmas and a Happy New Year to your family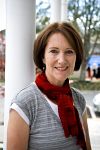 Nicki McDonald
General Manager
New Zealand Youth Mentoring Network
PO Box 99726 Newmarket
M: 027 520 2981
W: 09 521 8240
E: nicki@youthmentoring.org.nz
W: www.youthmentoring.org.nz